Back To Blog
Not all locksmith companies operate in the same manner. Some are quite different from the conventional locksmith businesses that people have grown accustomed to. There is obviously a difference in the quality of the services provided by various companies. In addition to that, different companies are known to specialize in different areas of the locksmith business. Here, you will be learning about the multiple types of locksmith companies that exist across neighborhoods, towns and cities in the country. You will also be getting an insight into how different companies design their service offerings to stay ahead of the curve in the market.
Automotive Locksmith Companies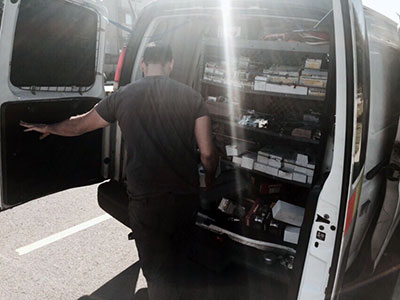 As the name clearly suggests, these companies are founded with the vision of providing mobile locksmith services. If you have never been in need of such a service, you are probably wondering why it exists. Here is a simple scenario to better explain the usefulness of a car locksmith. Suppose you are travelling on the outskirts of the city at the middle of the night when you decide to stop at a gas station. Once you return to the car, you find out that you left your keys inside the vehicle and are now unable to get inside. The people at the gas station may not know how to help you. Since it is already late at night, you are unlikely to find someone in the vicinity who can offer you help in this situation. Under such circumstances, your best hope lies in making a call to a local automotive locksmith service that responds to emergency situations. Besides helping people out with vehicle lockouts, these locksmiths can rekey the ignition, restore the movement of the steering wheel and get the trunk unlocked.
Residential Locksmith Companies
These companies are focused on providing their services to homeowners. People go through all sorts of lock related problems in their homes. Door locks and window locks are not usually very long lasting. Hence, they need a repair or replacement every other year or once every two years if they are heavily used. To get this task done, residential locksmith companies are phoned in who then get their professionals busy with the job of fixing the locks. Much like the automotive locksmith companies, these businesses are also known to provide 24 hour emergency services within a certain locality.
Commercial Locksmith Companies
These companies provide more or less the same services offered by residential locksmith companies. However, they often go a step further and offer consultancy on security enhancement within the office premises. In other words, these office locksmiths are often equipped with the technical knowledge, tools and resources to install advanced security systems that provide maximum protection to commercial buildings.
Pssst… guess what, though? Our company offers all these services and more! So, basically, your search stops here ;)